Central Belize Aboard the Nekton Pilot (January 2007)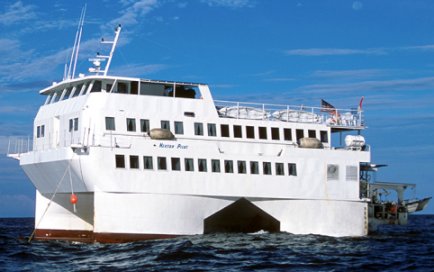 The Nekton Pilot out of Belize City Nekton Cruises Website
This trip was made with my dive buddy John Wolfe as a sort of belated birthday present for both of us. The Nekton Pilot is a odd looking dive liveaboard, looking more like an oil platform than a dive boat. The design is supposed to be ultra-stable in the water (read anti-seasickness). Observing other dive boats (Aggressor and Peter Hughes) in the water, I'd have to say that the Nekton is more stable as advertised. It is designed for 32 divers (we had 20 aboard) so not as much attention is paid to the individual diver as one gets on the Aggressor or Peter Hughes boats.
The trip orginated in Belize City where we boarded the boat Saturday night. In the wee hours of Sunday morning, the captain pulled out of port and headed for Lighthouse Reef - one of three huge atolls offshore of Belize City. Lighthouse is approximately 40 miles from port.
The first three days were spent on Lighthouse Reef, a 150 sq. mile coral atoll with only a few specs of land peeking above the sea. Most of our dives were just off Long Caye. On Wednesday, the captain sailed us 25 miles south to Glover's Reef. Glover's is slightly smaller than Lighthouse but has nothing above the surface but a tiny rock the size of a house. Wednesday afternoon and Thursday were spent back on Lighthouse Reef with the final day (one where I was sick and could not dive!) was on Turneffe Reef, just west of Lighthouse.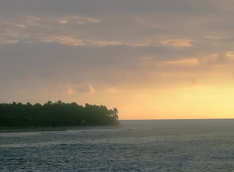 Sunset at Half Moon Caye on Lighthouse Reef
The wildlife was abundant and the reefs were healthy. John was making REEF fish surveys and found over 110 separate species during the week. And all this by virtually ignoring the swarms of smaller fish like gobies and blennies.
Most exciting big animal sightings: eagle rays, stingrays, reef shark, and nurse shark.
The dive schedule was five dives a day at two separate dive sites. With 90 cu. ft. tanks, John and I were more often limited by time rather than air. It was a tough thing to get back on the boat with plenty of air left, but blowing all our bubbles would cut the next dive too short.
All in all, I would recommend the Nekton Pilot for independent divers... especially considering the significant discount over the Aggressor or Peter Hughes. As well, the Peter Hughes and Aggressor were often the next dive site over from the Pilot and were almost always in sight. If however you prefer guided diving, the Aggressor or Peter Hughes boats are the way to go. For me, just leave me alone and let me dive...
---
Click picture for larger image...
| | | | | | |
| --- | --- | --- | --- | --- | --- |
| | | | | | |
| Reef Squid at Night | Lurking Great Southern Barracuda | Invert Life on the Wall | Tiny Aggregate | Hawksbill Turtle Sailing By | Blue Tangs |
| | | | | | |
| John on the Photo Hunt | Yellowhead Jawfish | Lana Feeding the Chubs | Queen Triggerfish | Sand Diver | Eagle Ray & Friend |