Cenote Caracol and the Magic Mayan World System - December 2004
Three years ago, a Mayan landowner discovered a small cenote on his land. This, in and of itself, is not unusual because the area north of Tulum is littered with cenotes both large and small. The owner contacted Sergio Granucci and Pep Llinares to do an initial survey. What they found was nothing short of amazing. A new system stretching for miles that contains the same quality of decorations as found in Nahoch Nachich, its nearest neighbor to the north. Further land surveys located a several more cenotes within a few kilometers of the original cenote now named Caracol for the abundance of fossil sea shells found there. In addition, there are two large dry caves discovered near by. What a find!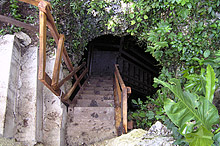 Newly Constructed Cenote Caracol Entrance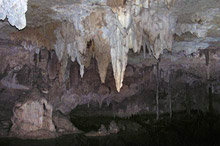 A View from the Platform Inside Cenote Caracol
The Caracol system is similar to Nahoch in that it is shallow and highly decorated. I think that Caracol is more beautiful than Nahoch.
After laying several thousand feet of line from Caracol, Sergio and Pep created a plan to develop the system for cave divers with some unique twists. The plan is to develop the 200 acre property in several stages. In the first stage, the unexplored remote cenotes on the property will be open to clients who wish to do some true cave exploration. This is an unprecedented treat since most original discoverers covet the task of laying virgin guideline. Clients are given logistical support including an on-site dive shop, and a team of Mayan sherpas to assist them in transporting gear to the remote cenotes. They will stay in the jungle at the remote cenotes for days at a time. This is not some manufactured "eco-adventure", but a true opportunity to do some original underwater cave exploring in the jungles of the Yucatan. The first team of explorers begins in February 2005.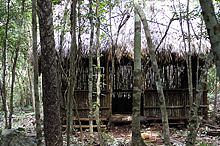 The Dive Shop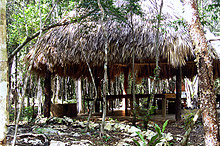 Sleeping Quarters for the the Explorers
In the second stage of development, the property will be open to tourist to visit the dry caves and cave divers to dive Cenote Caracol which has already been largely explored.
Check out their website at Labna Ha. For those of you familiar with the area, Mayan World is just south of Nahoch Nachich. In fact the road to Labna Ha connects to the Nahoch road.